It has beautiful parks and tree-lined avenues, public spaces and historical buildings. The cultural scene is very lively. It's one of the world centers of theater, with such amount and variety of shows available that there are always more than we can watch.
Buenos Aires is known as the capital of tango. You can take advantage of your medical trip and learn more about tango. Most tourists not only love to see some of the many tango shows available –from humble street dancers to sophisticated live shows- but they also enjoy taking classes to learn how to dance it.
The people of Buenos Aires, called "porteños" (port people), are very warm and open-minded, and in general they are used to living in diversity. The last century saw the population grow into millions after receiving large-scale immigration coming from different continents and cultures. Buenos Aires was the first city in Latin America in which the legislation started to authorize civil unions of couples no matter which gender they are, and in the past few years, the city has become a principal destination for gay-and-lesbian-oriented travel agencies. The Gender Identity Law passed in 2012, is considered the most progressive in the world. It doesn't pathologize being trans and establishes, among other things, that people can change the gender in all their identification documents with no need of previous surgeries or psychiatric diagnose.
Buenos Aires has been consistently placed among the favorite cities of the world in the renowned readers' poll of Travel and Leisure Magazine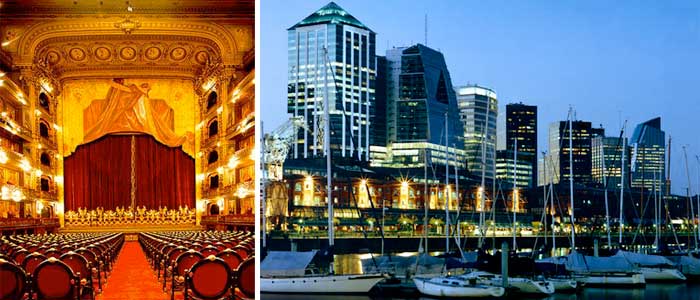 Useful information for travellers
Language
Spanish is the official language. However, you will find shops, bars and restaurants attended by people that speak English fluently. Some of them also speak other languages like French, Portuguese, or Italian.
Weather
In Buenos Aires the seasons are well differentiated. Summer is warm and lasts from December to March; winter is cold and lasts from June to September. Spring and fall have mild temperatures.
Currency
The official currency is the peso argentino. Big stores accept credit cards and in most shopping malls and supermarkets you will also be able to pay in dollars. Middle-sized stores usually require a minimum charge for accepting credit card payments.
Small stores and kiosks, however, only take cash and local currency.
Electricity
220 volts, 50 hertz
Banks and ATM
Banks are open from 10 AM to 3 PM. Passport is needed for foreigners to exchange currency. Cash machines are available 24/7 all over the city. However, withdrawals from these machines are subject to a daily limit of about 300 US dollars.
Restaurants
You will find restaurants open even after midnight, especially in restaurants areas like Palermo or in downtown, so you can easily have dinner after attending a show. People rarely have dinner before 9 PM in Buenos Aires.
Drugstores
Big drugstores and kiosks chains are open 24/7.
Transportation
The subway network is wide, the service is good and the signals are easy to read. There are also buses and plenty of taxis. Most of them are gathered under radio agencies so you can phone call for one from anywhere in the city.
Public Health
There are no vaccination requirements for travellers coming to Buenos Aires city. Sanitary conditions comply with the safety standards and running water is drinkable in every faucet.
Public hospitals give free assistance in case of medical emergencies.
Recommended reading
33 things we love about Buenos Aires http://globetrottergirls.com/2013/01/33-things-we-love-about-buenos-aires/
Buenos Aires winner of the Travellers choice 2013 on Trip Advisor: http://www.tripadvisor.com.ar/Tourism-g312741-Buenos_Aires_Capital_Federal_District-Vacations.html
Review about Buenos Aires on National Geographic: http://travel.nationalgeographic.com/travel/city-guides/buenos-aires-argentina/
Official website of the Secretary of Tourism of the City of Buenos Aires: http://www.turismo.buenosaires.gob.ar/es
Offical website of the ColĂłn Theater (Buenos Aires opera house): http://www.teatrocolon.org.ar/es